Signup Link : Sign up here. Alternatively PM your team to joel on #utaunz on globalgamers irc (irc webclient).
If you do not have a partner but would like to play please leave a comment at the bottom of the article or be on IRC an from 7pm onwards to find a partner.
All games will be played during the evening of the 16th April. Players are able to select their team mates and signup. Players are expected to be on IRC for organising games during the evening.
---
Saturday 16th April 9pm Sydney time – Check in from 8pm onwards on game day
Maps list: dm-temple, dm-spacer, dm-chill_shell. Map selection will be ban ban play for best of 1 rounds and pick pick decider for best of 3. If teams cannot come to agreement about pick/ban order (should not be a problem with three maps) then a coin flip will determine who picks first.
---
Late Comers
Games will start at 9pm. If players are not online ready to play at 9pm your can turn up late, however you will take a loss and your first game will occur in the lower bracket. If you are not available for your second game you will be "lose" and brackets will advanced. Around 30minutes has been allocated for BO1 rounds so 9:30 is about the latest is the latest you can turn up. If two teams for the same game are late then some coin flipping will occur.
If you wish to play from second round onwards your team needs to be registered prior to the day. Teams cannot be added after 9pm when the start button is pressed on challonge.
Registration
Captains are required to sign up their team using the "Custom Name" for registration on Challonge, including their team mates name along with their own. See image below. Players are urged to register their interest prior to the evening. You must use your epic games account name as your sign up names. This is the name that appears on your friends list for other players or on your forum account.
Sign up here. Alternatively PM your team to joel on #utaunz on globalgamers irc.
Please check in to confirm your spot after 8pm on the 16th.
Game Settings and Mutators
Untick rank restricted (important to allow players to join)
Custom Game
Game time : 15 minutes
Max Players : 4 (important to stop randoms joining)
Mutators: Weapon Stay Off
Friendly Fire
Weapon Replacement (Bio Rifle -> Bio Launcher and Redeemer -> none)
Hitsounds (If available due to new builds and hub availability).
No pickup timers (If available due to new builds and hub availability).
Note: Amp is allowed. Beserk is allowed.
Map selection is as follows. Best of one: Ban, ban, play. Best of three: Pick, pick, decider.
Brackets headings indicate how many maps to play.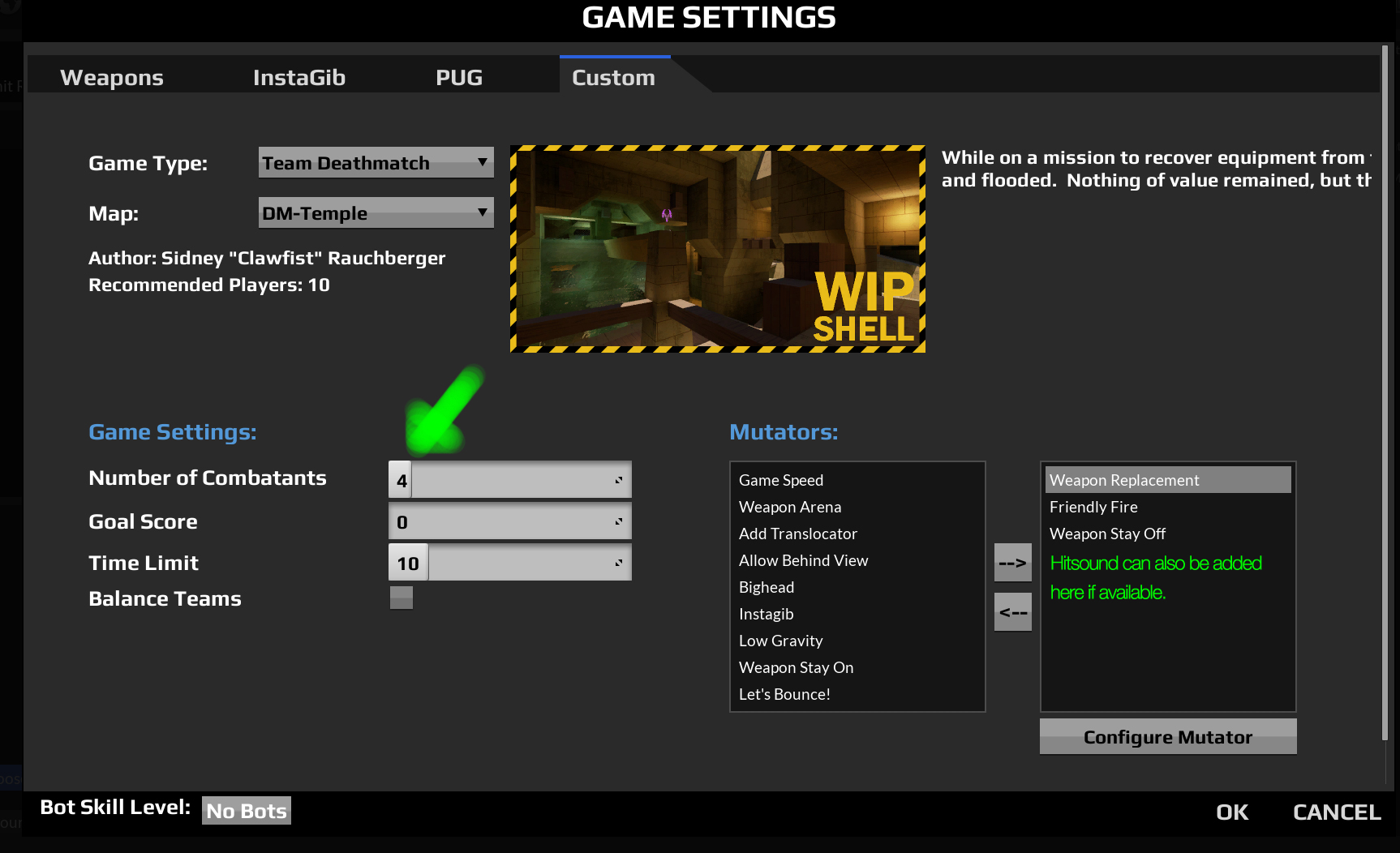 Score Submission
Please submit your scores, either via challonge (for registered users) or to joel in #utaunz via PM.
Double Elimination Tournament Structure
Teams will be roughly seeded using previous performance as well as eyeballed metrics on a good/bad basis. The more we play the better this ends up working!
Finals will consist of one best of three set only. The upper bracket winner will not have a "life".
Disconnections / Player Crashes
Maps where players disconnect before 2 minutes of elapsed game time are to be restarted. This must be reported by the remaing connected team mate before the game clock reaches two. One restart per team permitted due to disconnects or crashes per round.